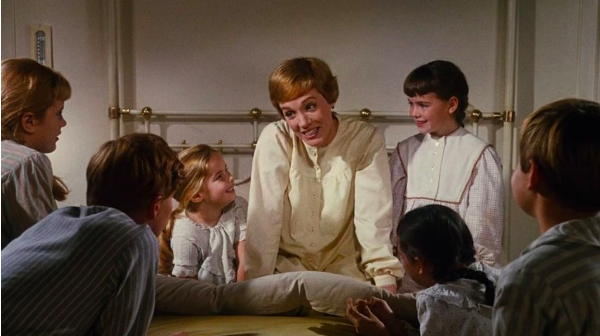 I pray that your Christmas was wonderful. My favorite movie The Sound of Music was on last week! As Julie Andrews sang the famous song "My Favorite Things," a song about what she thinks about when times are bad, this scripture dropped into my spirit.
"Finally, brethren, whatever things are true, whatever things are noble, whatever things are just, whatever things are pure, whatever things are lovely, whatever things are of good report, if there is any virtue and if there is anything praiseworthy—meditate on these things." Philippians 4:8
As I watched the scene grinning from ear to ear for the millionth time, I thought about how timely the song was.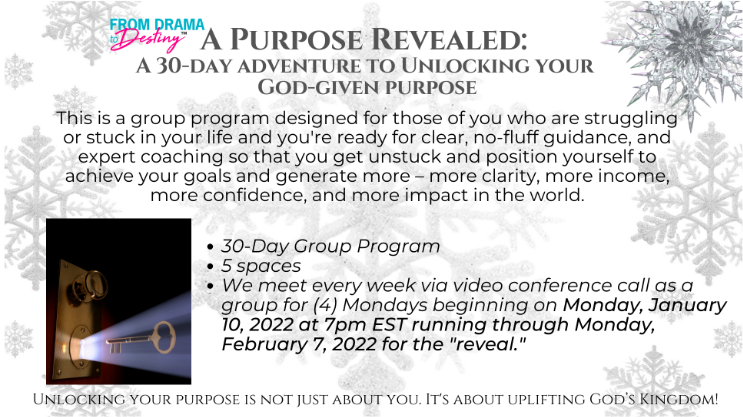 My former client Danielle didn't waste any time and said this…
"Prior to hiring Kenya, I was sort of struggling with identifying my true purpose. As a result of working with Kenya and her FD2D™ A Purpose Revealed program, I was able to make tangible goals and I was able to fully identify with my purpose and how to carry it out. She gave me great resources along the way and also my full "reveal" was provided to me with laid out steps to perform my gifts and talents in ways that can benefit me and also bring monetary gain to me…"
A few years ago, Bishop TD Jakes preached a sermon, "My Battle is My Bread" at my church's New Year's Revival. He said to pick your highest wall. Whatever that thing is that you are supposed to be doing that is huge, demons have been sent specifically to keep you from doing it. In other words, what have you been trying to do, and it keeps getting derailed? Your battle is your bread! I've been super serious about what God has trusted me with ever since.
Are you in? We start on Monday, January 10th, finishing up on February 7th with your purpose reveal. I have 5 spots so don't miss out!
"Trust in the Lord with all your heart, And lean not on your own understanding; In all your ways acknowledge Him, And He shall direct your paths." Proverbs 3:5-6
I can't wait to serve you and see what paths will be illuminated! Your purpose is needed now more than ever.
I'd be happy to answer any questions.
Blessings,
Kenya
As we move into 2022 and the 3rd year of this pandemic, we must think of our favorite things. Just as the scripture says, we must think of what is true, noble, just, pure, lovely, of good report, whatever is praiseworthy, and focus on these things. Surely what God has put on the inside of you is all of these things. It wasn't meant to keep it a secret. What are you waiting for? The Kingdom needs what He anointed you to do. Do you know what it is? God has called me to equip His people and help unlock the purpose that He has put on the inside of them and help them to walk in it. I can honestly say that it is one of my favorite things to do!
My 30 Day Purpose Reveal Group Program is biblically-based and baked in prayer. It will help unlock your God-given purpose so that you can finally stop hiding in 2022. This is a group coaching program designed for those who are struggling or stuck in your life and you're ready for clear, no-fluff guidance, and expert coaching so that you get unstuck and position yourself to achieve your goals and generate more – more clarity, more income, more confidence, and more impact in the world. Private one-on-one sessions are available as well.